Explosives Detection



Interquest Detection Canines® Los Angeles, provides professional, customized explosive/firearm detection services to individuals, schools, and major corporations throughout Los Angeles and Ventura Counties. Detection services are tailored to individual needs and may be provided in an unobtrusive discreet manner or as a high visibility deterrent.

Bomb dogs have proven themselves the most effective way to determine the presence of explosives. Time and again, canines prove themselves more reliable than all of the machinery designed to do the same job. Canines are more odor-sensitive, mobile, and less intimidating. By implementing a canine detection program you minimize the intrusions and downtime to your employees and facility.

Our explosive Canines receive a minimum of 400 hours of initial explosives detection training, and DAILY maintenance training and annual testing and certification. Interquest Explosive Detection Handlers receive training and are tested yearly in explosive "booby trap" ambush recognition and explosives recognition and awareness. They are also experienced and knowledgeable with the inherent dangers and necessary safety precautions associated with explosives/firearms detection.

Our Explosive Detection Canines are trained to detect all of the High Based and Low Based Explosives including the following odors:
Trinitrotoluene (T.N.T.)
Safety Fuse
Dynamite (Commercial and Military)
C-4 (Plastic Explosives)
Gunpowder Products (Black, Smokeless, and Flash)
PETN
RDX
Nitroglycerin
Ammonium Nitrates
Potassium Chlorate
Sodium Chlorate
Detonation Cord
Water Gel
A.N.F.O.
Programs for Explosives Detection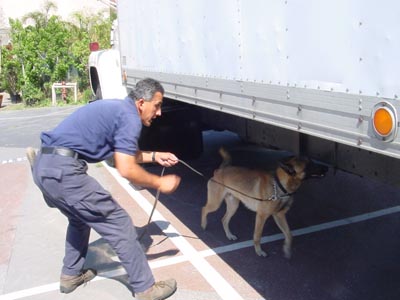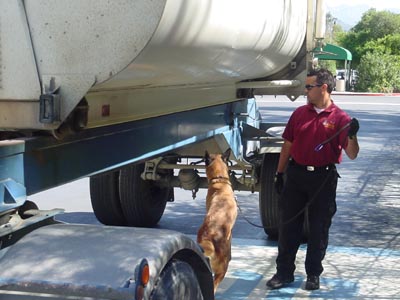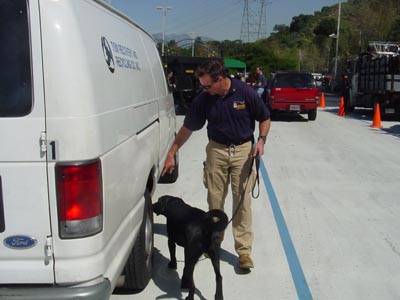 Interquest Detection Canines 2275 Huntington Drive, Suite 464 San Marino, CA 91108
phone: 626.284.6838 fax: 626.284.6314